One of the best-remembered characters in Grand Canyon history is "Captain" John Hance — not really a captain, but a late 19th-Century tour guide. Hance was a teller of tall tales, up to and including his imagined rank. His skill as an entertainer is evident in an 1899 book compiled and published by the general manager of the stage line that served his business. Today, that volume — a collection of testimonies written in Hance's private guestbook — preserves a fascinating collection of early tourist reactions to Grand Canyon
Ebullient words of praise flow like the Colorado River. Even the title of the book is positively breathless: Personal Impressions of the Grand Cañon of the Colorado River Near Flagstaff, Arizona: As Seen Through Nearly Two Thousand Eyes, and Written in the Private Visitors' Book of the World-Famous Guide Capt. John Hance, Guide, Story-Teller, and Path-Finder.
"Nearly two thousand eyes," of course, is just a chest-thumping way of saying "less than one thousand people."
The first-person narratives in Personal Impressions reveal how those visitors perceived, contextualized, and understood the canyon. There is probably some selection bias at work — the book records no overwhelmingly negative reactions — but that selection bias is also illustrative. The passages that made the cut depict the canyon as its promoters would like it to be seen.
Broadly speaking, there are several types of testimonials contained in the book. Over the next few months I'll discuss each of them in a series of blog posts:
Part 1: Deadpan commentary and astonishment (January 2015)
Part 2: Sound advice against dangerous feats (February 2015)
Part 3: Reverence and the inadequacy of language (March 2015)
Part 4: Praise for John Hance and his tall tales (April 2015)
Part 5: The pursuit of wealth and happiness (May 2015)
In this post, I'll kick things off with a selection of deadpan passages written by 19th-Century tourists. A brief note before diving into these quotations: I've edited some of them for length and punctuation; longer versions appear in Personal Impressions.
"Talk about holes in the ground."
Many of the visitors quoted in Personal Impressions describe Grand Canyon without making any obvious reach for poetic language. Which is not to say that their remarks are unexpressive — their cursory, deadpan comments speak volumes. It's easy to imagine these words coming from tourists overwhelmed by the enormity of this place:
Talk about holes in the ground — well, this is one of them.
— G. E. Tuttle — October 5, 1891 (pg. 43)

By Joe! This cañon takes the whole shooting-match.
—Henry R. Wade — July 14, 1892 (pg. 51)

Magnificent, and much else also in addition besides.
—Rue H. Hardenberg — June 14, 1895 (pg. 87)

The biggest thing on earth.
—R. S. Hayes, Ann N. Hayes, Both of New York — May 14, 1897 (pg. 101)

The cañon is all right.
—J. F. Jackson, Milwaukee, Wis. — September 26, 1897 (pg 111)

See the Grand Canon, and know Captain Hance, you will never forget them, sure thing.
—Wm. Bridham — September 20, 1898 (pg. 123)
A couple of the guests exhaust their vocabulary at the word "ditch":
My only regret is that John Hance and I can't make a longer stop at the boss ditch of the world.
—J. H. Stevenson — November 16, 1894 (pg. 85)

It's a ditch of all ditches. That's all.
—Edmund J. Bart — September 19, 1898 (pg. 122)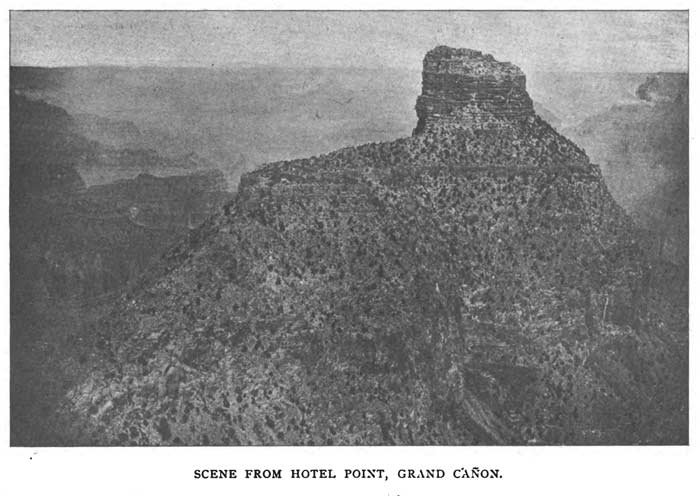 Personal Impressions includes the terrified reactions of two female visitors, one of whom elevates Hance to the status of water-boy hero:
I have never witnessed anything like this. It scares me to even try to look down into it. My God, I am afraid the whole country will fall into this great hole in the ground.
—Mrs. John Z. T. Varmer — July 9, 1892 (pg. 50)

This is a warm place. I fainted when I saw this awful looking cañon. I never wanted a drink so bad in my life. Captain, I won't forget you for bringing me the oyster-can full of water. Good-by.
—Gertrude B. Stevens — July 12, 1892 (pg. 50)
Those are the only two quotes describing outright fear, and they appear near the beginning of the book. There is a negligible chance that the incidence of American acrophobia peaked in July 1892. What's more probable is that the book was front-loaded with such reactions, making Hance's services seem all the more valuable.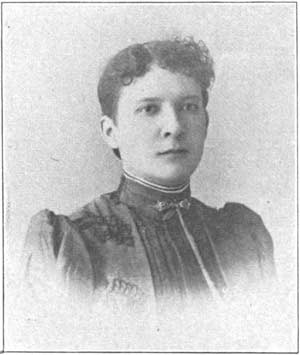 In light of the editorial decision to open the book with descriptions of terrified women, it is refreshing to see this quote:
There is a certain malady, commonly termed "big head," with which a large number of otherwise healthy people are afflicted. Prescription: Stand upon the brink of the Grand Cañon, gaze down, and still further down, into its awful depths, and realize for the first time your own utter insignificance.
—Mrs. Mary E. Hart, M. D., Los Angeles — June 5, 1895 (pg. 87)
I love this quote. Many of the testimonials attempt to capture the immensity of Grand Canyon; this one does it best. Other writers resort to florid descriptions of grandeur; Hart describes the canyon's ability to dwarf titanic egos.
The story of Mary Hart's Grand Canyon visit doesn't end in Hance's guestbook. In September 1895 she presented a paper at a meeting of the Southern California Historical Society: "The Grand Cañon of the Colorado." I'm currently trying to track down a copy of that paper.